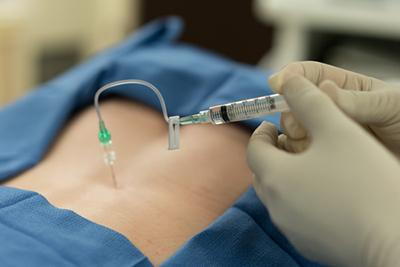 Rheumatology is the specialized field of medicine focused on diagnosing and treating diseases that affect the joints, muscles, and bones. Visit Dr. Carmen Quinones at Virgin Islands Orthopaedics for interventional pain management in St. Thomas, St. Croix, and Tortola, Virgin Islands, if you're experiencing persistent joint pain, swelling, stiffness, or other symptoms related to musculoskeletal conditions.
Dr. Quinones is a skilled practitioner with expertise in minimally invasive procedures designed to alleviate pain and improve your overall quality of life. Dr. Quinones offers personalized care and tailored treatment plans to address your needs. Don't let pain hold you back - seek the expertise of Dr. Quinones and her compassionate team today.
What Is Interventional Pain Management?
Interventional pain management is a dynamic approach that directly targets the root cause of pain to bring relief and restore functionality. By utilizing minimally invasive procedures, interventional pain management aims to alleviate chronic or acute pain conditions. Skilled physicians employ techniques, such as nerve blocks, epidural injections, and radiofrequency ablation, to interrupt pain signals and reduce inflammation.
This proactive method offers patients a viable alternative to traditional pain management strategies, minimizing the need for long-term medication use and its potential side effects. With an emphasis on patient comfort and well-being, interventional pain management empowers individuals to regain control over their lives, allowing them to actively participate in daily activities and improve their overall quality of life.
Your Office Visit: What To Expect
You can expect a comprehensive evaluation to understand your specific pain condition during an initial consultation for interventional pain management. Dr. Quinones will actively listen to your concerns and medical history, conducting a physical examination to assess the root cause of your pain. They may recommend diagnostic tests, like X-rays or MRI scans, to gain further insight into your Rheumatology in St. Thomas, St. Croix, and Tortola, Virgin Islands symptoms.
Our doctor will discuss potential treatment options tailored to your needs based on his findings. For instance, he might suggest minimally invasive procedures like epidural steroid injections or nerve blocks. The consultation aims to provide a personalized pain management plan, addressing your unique situation with compassion and expertise.
Please explore our website to learn more about the conditions we treat and the services provided. For more information about pain management in St. Thomas and St. Croix, or if you want to schedule an appointment with Dr. Carmen Quinones for interventional pain management at Virgin Islands Orthopaedics and Sports Medicine, call (340) 714-2845.